ENDOCRANIAL - Impact Of Change CD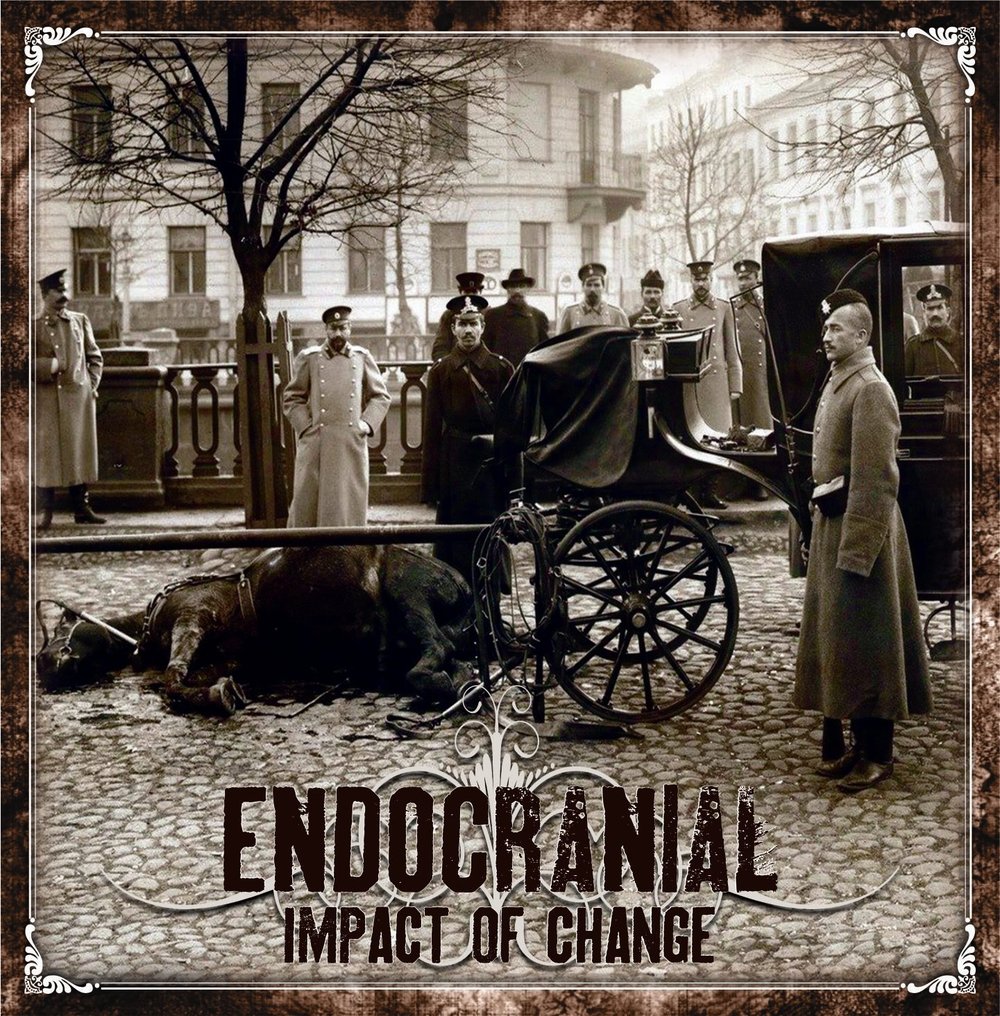 ENDOCRANIAL - Impact Of Change CD
RNR 016 -- ENDOCRANIAL -- Impact of Change
You can stream/buy the whole release DIGITAL @ Bandcamp HERE

1. Baptist
2. Impact Of Change
3. Who fell down - That Food (with Dmitriy Orlov from FETAL DECAY)
4. Socialism
5. Scrap in your brain
6. Endocranial Madness
7. You are Sick
8. Mind Deprivation
Bonus track:
9. Abu Dhabi Donbass (Lev Kurganskiy Drums)*
LineUp:
Vlad Pisanenko - Bass
Andrey Malikov - Guitars
Gennadiy Korolev - Vocals
Oleksandr Bondar - Drums
Drums were recorded at Metal Works Studio in 2011 by Lev Kurganskiy (Endocranial, Ezophagothomia).
Guitars, bass and vocal recorded at "Square Universe Studio".
Mastering "Endocranial Madness Group".
Graphic Art by Hennadiy Korolev
Feel free to check out the album teaser: HERE

or the Track "Socialism": HERE

Endocranial now a part of the Family!
Rising Nemesis Records is proud to announce that ENDOCRANIAL has joined the rooster. ENDOCRANIAL is a brutal death metal act from Kiev, Ukraina. "Impact Of Change" will be released begin of October as a Split-Label-Release with Sevared Records (USA). This will be the first full length output of this social critic, atmospheric, blasting Ukrainian barbaric monster. The sound can be described as a mixture of early 2000 brutal death from bands like DEEDS OF FLESH, SEVERE TORTURE and a fresh touch from stuff like INSIDIOUS DECREPANCY, INVERACITY, MISERY INDEX and DYING FETUS.
ENDOCRANIAL online @:
OFFICIAL RISING NEMESIS RECORDS Websites:
Shop: click here
Facebook: click here // LIKE IT!
Bandcamp: click here
MySpace: click here
Discogs: click here
incl. 19% MwSt
zzgl. Versand/Shipping (1,50€ Deutschland / 3,50€ World)
jeder weitere Artikel/each other item (Deutschland +0,50€ / World +0,50€)