PUBLIKK ENEMA - Death Swag CD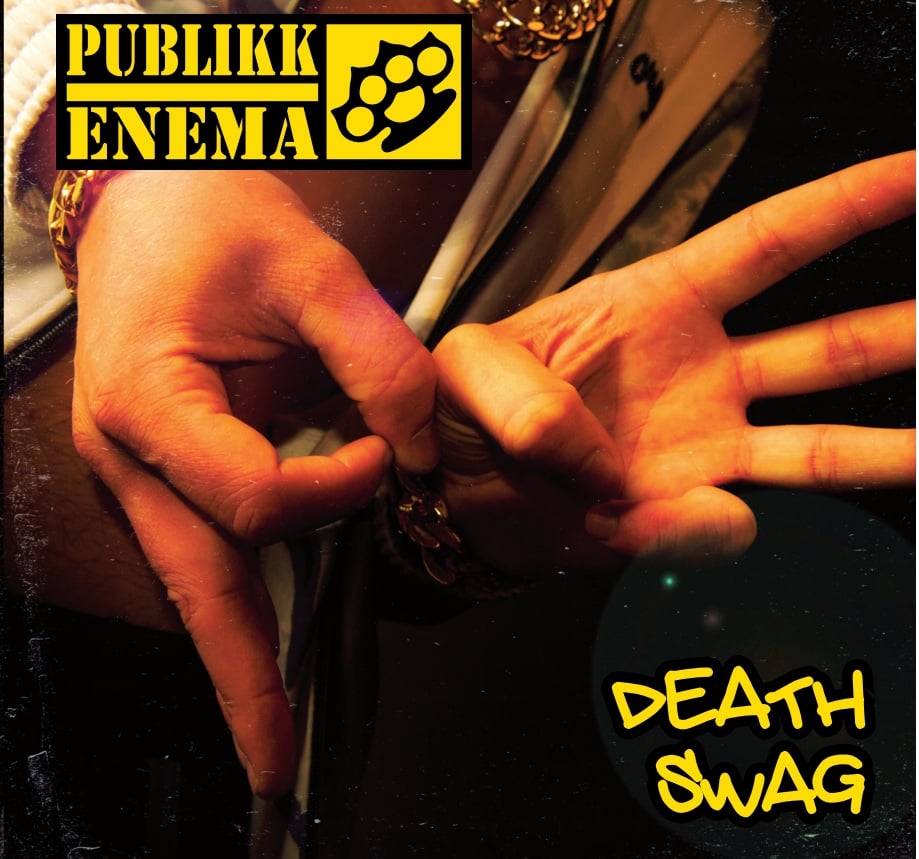 PUBLIKK ENEMA - Death Swag CD
You can stream/buy the whole release DIGITAL @ Bandcamp HERE

Digital available @ iTunes, Music Load, OVI, 24/7 Musicshop, eMusic, Music Net / Medianet, Rhapsody, VidZone, Deezer, Amazon.com, 7Digital, Shazam, Spotify, Arvato Mobile (Zimbalam), Simfy.com, RDIO, Phononet, Google Play Music, Aspiro Music
PUBLIKK ENEMA – Signs with RISING NEMESIS RECORDS
5th November, 2013 – Rising Nemesis Records stands for brutal, non-compromising Death Metal and SLAM!
We feel very proud to announce that Netherland based sick fucks from PUBLIKK ENEMA inked a deal with Rising Nemesis Records to release their first full length record. "DEATH SWAG" is an amazing masterpiece of outstanding brutality, slam and SWAG. Perfect sound, 8 catchy songs and brutal beatdowns awaits you!
YOLO Bitch – Prepare your tracksuit trousers, your Nike Air Max, your gold chain, your engangement brass knuckle and get ready for the pit!
Release Date: End Of January 2014
Biografie
In 2013 three bass ass motherfuckers from The Netherlands decided it was enough with the current death metal scene and decided to team up to bring the swag. MC Slammer joined forces with Slam Shady and created the Death Swag album, to be released the same year. On drums they recruited Mosh Death to bring the beats and breakdowns. In September they will take to the stage for the first time. Death metal will never be the same again. Live for death swag. Die for death swag.
MC Slammer comments as follows: ''Publikk Enema knew it was only gonna be a matter of time before we got signed, and after going through a pile of record deals we all agreed that the slam death label with the most swag was obviously Rising Nemesis Records. Our debut masterpiece entitled Death Swag will conquer the heads and hearts of all you suburb-ghetto wiggers out there, get your grills and baggies on, wear your cap crooked and bounce to this! Booya!!!"
Line-Up:
MC Slammer – lyrical genius, voice of a generation
Slam Shady – swag riffer, strings of slam
Mosh Death – beat doctor, groove god
Recorded, Mixed and Mastered by Uncle Slam & Slam Shady
Photos and Cover Art by William Van De Voort
Layout by Wouter Wagemans
OFFICIAL RISING NEMESIS RECORDS Websites:
Shop: click here
Facebook: click here // LIKE IT!
Bandcamp: click here
MySpace: click here
Discogs: click here
incl. 19% MwSt
zzgl. Versand/Shipping (1,50€ Deutschland / 3,50€ World)
jeder weitere Artikel/each other item (Deutschland +0,50€ / World +0,50€)